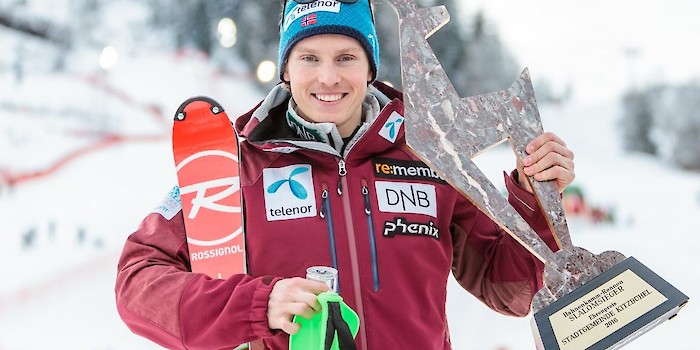 14.01.2018
Henrik Kristoffersen has already celebrated 15 World Cup victories at the tender age of 23: the Norwegian athlete has also revelled in his first triumph on Ganslern Hill: two years ago, Henrik Kristoffersen triumphed in the Kitzbühel Slalom.
"It's crazy to win at Kitzbühel. It is not only the most challenging Downhill here, but the most difficult Slalom too. It's just really special,"
...enthuses the winter sports athlete about his win on the Ganslernhang. The technical specialist has already secured 27 podium positions in his showpiece discipline, with another 11 top 3 rankings in Giant Slalom. The 23-year-old Norwegian has also taken the Junior Ski World Champion title no less than six times: 2012 in Giant Slalom, 2013 in the Combined and 2014 and 2015 in both Slalom and Giant Slalom. This makes him the most successful racer ever in the history of the Junior Ski World Championships. Kristoffersen has also enjoyed Olympic success: in February 2014, he won bronze at the Olympic Winter Games in Sochi. This makes him the youngest alpine medallist of all time at the Winter Olympics.
The Norwegian delivered his best season yet in 2015/16, winning six of the first seven Slalom races and smashing the winning streak of Marcel Hirscher, who had taken the discipline's "Crystal Globe" home with him for the previous three years. Although Kristoffersen has not yet won any races in the current season, he has achieved countless podium positions, making the 23-year-old Marcel Hirscher's strongest adversary for this season's overall World Cup title.
Photo © K.S.C.
---
Related Posts
---