Jubilee: 60 years of Winter Olympics in Cortina d'Ampezzo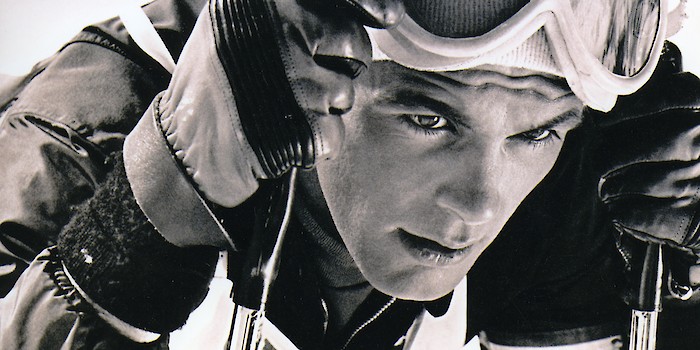 19.01.2016
This year will mark the 60
th
anniversary of his impressive Cortina d'Ampezzo triple-triumph. Three races, seven titles: the 1956 Winter Olympics turned into a spectacular one-man-show, revolving around the then 20-year-old recently qualified glazier and plumber, sporting a white pointed hat. He was awarded gold medals in all three alpine competitions, simultaneously winning World Champion titles and gold in the Combined Category for his outstanding performance. In the VII. Winter Games, Sailer was one of the favourites for the alpine ski competitions. He had already dominated the test run for the Olympics, the Hahnenkamm Races (14
th
/15
th
January 1956), and even celebrated a total Hahnenkamm victory after winning the Downhill and Slalom (with any racer's dream score of zero in the Combined Category). With his triumph in Cortina, Sailer went down in skiing history and became a bright light in Austria's post-war period.
29th January 1956, "Illio Colli-Faloria": Giant-Slalom Gold with a 6.2 second lead.
Toni Sailer beat his team colleague and strongest opponent, Anderl Molterer from Kitzbühel, to first place by an astounding 6.2 seconds. This kind of lead had never been seen before at the Olympic Games. The gold medal and title of World Champion went to Toni Sailer, while Anderl Molterer won silver, becoming vice champion. Walter Schuster from Lermoos completed the Austrian's Giant-Slalom triumph by coming third in Cortina. Ernst Hinterseer, the third racer representing Kitzbühel at the 1956 competitions, took sixth place, later becoming Olympic Champion in the Squaw Valley Slalom (1960).
31st January, 1956, "Col Drusicé":  Slalom-Gold and best time in both heats.
Toni Sailer's competitors had no chance in either of the two races: second placed Chiharu Igaya (Japan) finished 4 seconds behind him. Anderl Molterer was eliminated after the fourth gate and Ernst Hinterseer was not put forward to race.
3rd February, 1956, Tofana: Downhill-Gold despite replacement strap.
  Toni Sailer out-raced everyone on the almost 3.5-kilometre-long course, including Swiss silver medallist Raymond Fellay, who he beat by 3.5 seconds. What is more, Sailer raced with a replacement strap, given to him by Italian coach Hans Senger, after his own long binding strap snapped. Anderl Molterer took third place, crossing the finish line four seconds behind his colleague. After the "Cortina Miracle", the fans' adoration for the "Black Blitz from Kitz", as Sailer was later known after one of his film roles, grew immeasurably. The name Toni Sailer became synonymous for "national hero". He was the idol of an entire generation of teenagers, a shining star of the sporting world, a symbol for the new Austria. Never before had an athlete been so worshipped. To prove to the world, that his triple-triumph in Cortina had been no lucky coincidence, the Kitzbühel racer took part in the Bad Gastein alpine World Championships (1958). There he underlined his already outstanding race history by winning three additional World Championship titles (Downhill, Giant-Slalom, Combined Category), as well as the Slalom silver medal. After that, at not even 23 years of age, he dedicated himself to film and show business instead. On the 17
th
November 2015, Kitzbühel's racer of the century would have celebrated his 80
th
birthday. © Foto: Toni Sailer- Sports
---