Kitzbühel Museum receives a spectacular delivery from Vienna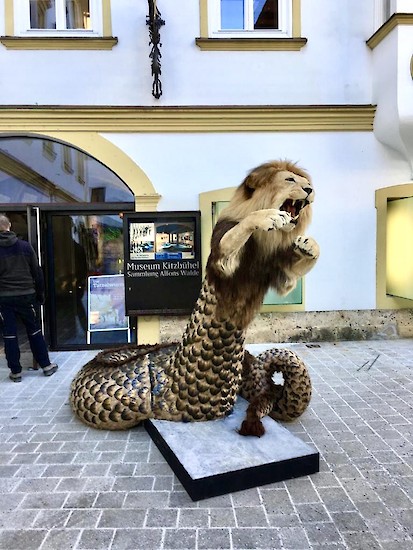 19.01.2020
The Natural History Museum of Vienna has loaned Kitzbühel Museum an extravagant artefact. The 2.8-metre tall exhibit will be featured in a special exhibition titled "Tatzelwurm". What is so unique about this stunning statue is its head – the stuffed head of a lion from the Natural History Museum's collection, all the way from Austria's capital. The impressive head forms the upper part of the sculpture, and its tail forms the lower element, which Ernst Mikschi, Taxidermy and Zoology Director, fashioned using over 1000 hand-crafted scales. Wido Sieberer, Director of Museum Kitzbühel, is fascinated:
"A thoroughly impressive work of art."
The exhibit was positioned so that the wild cat could feature in visitors' selfies, welcoming them as they enter the museum. The artefact should also raise awareness for the situation of wild cats in Austria. Visitors are able to make a donation to the Wildcat Platform initiated by the Nature Protection Society of Austria to support the cause.
Museum Website: www.museum-kitzbuehel.at
Phone: +43 (0)5356 67274
Photo © Museum Kitzbühel
---
Related Posts
---