Super Team Spirit, Super Kitzbühel, Super G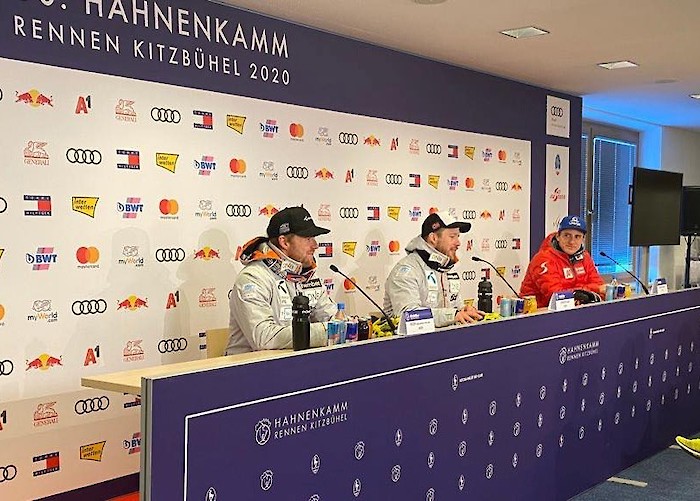 24.01.2020
We now know who will be on the winner's podium: Norway, ahead of Norway and Austria. The athletes summarised the Super-G in their own words:
"This is the best thing for the team. As Aleksander led equally with Matthias Mayer, I shared in his delight at the start line and celebrated with him, because it is simply a great Norwegian and Austrian result." And then Kjetil Jansrud started the race. "I had to concentrate again, focus on my run for a moment." And he was fast. The fastest. "Of course it's great. Kitzbühel is like a drug – if you win once, you want to experience it over and over again. And the second best feeling is to share the podium with your teammate."
Aleksander Aamodt Kilde sits next to Jansrud who, together with Matthias Mayer, was only 16 hundredths of a second slower. He also has reason to be happy, because: "I didn't think I would be a contender for the crystal globe again. Of course it is every racer's goal and, after Marcel Hirscher quit, World Cup victory is no longer such an unrealistic goal." Kilde is only 20 points behind the leader, Henrik Kristoffersen – another Norwegian. And during the press conference it becomes very apparent what the strength of the "Attacking Vikings" is: their team spirit.
And Kitzbühel's greatest strength? All three agree:
"The setting, the surroundings, the nature. What Kitzbühel offers is incredible. It is always good to come here,"
begins Mayer. For Kilde it is the people, the atmosphere at the finish line. And Jansrud? "I can only say the same. For me, it is one of the most beautiful areas in the world." This sentence is probably even easier to say, now he has Super-G victory in his back pocket.
Photo © K.S.C.
---
Related Posts
---