A Classic on the Ganslern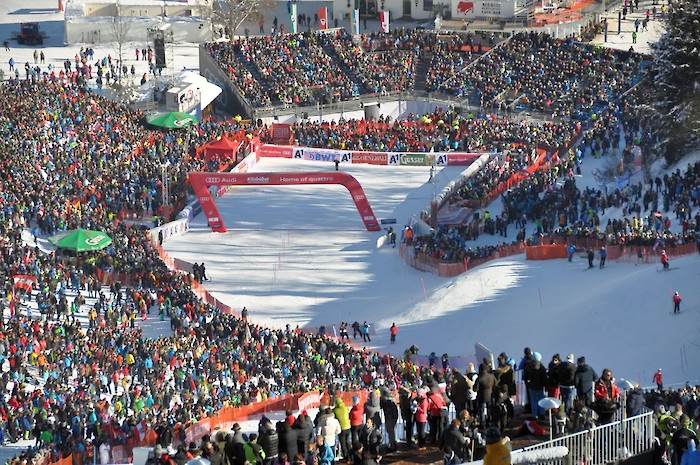 21.01.2018
The Ganslern is a slalom racer's Streif: an eclectic mix of challenge, myth and buzzing atmosphere. Every run is different and no swing of the hips is repeated quite the same way, all thanks to the varying terrain. What is more, the fans can get extraordinarily close to the racecourse, which will be topped off with this year's all new spectator grand stands at the start. The Ganslern Slalom has it all, making it the epitome of a classic race. Today's fight for the golden "Gams" trophy will be especially exciting: Stefano Gross (ITA) will kick off the race at 10:30 hrs, one bib number ahead of last year's winner Marcel Hirscher (AUT):
"It snowed a lot but it's incredible how good the piste looks. How they're able to perfectly clear so much snow is fascinating. Let's go, I'm going to give it my all"
Hirscher's toughest competitor, Henrik Kristoffersen (NOR, bib number 6) will pull out all the stops to end the Austrian's winning streak:
"Today is a new day. I will do my best to ski fast and come first."
There's a whole team of strong Austrian racers, though, led by Michael Matt with bib number 4:
"It is possible to beat Hirscher. Let's see if I can be the one to do it."
Manuel Feller is content with bib number 15 today:
"It won't be a disadvantage. The Russian gate setter has conjured up one of the most challenging courses I have ever seen. But it's a cool run with lots of combinations."
Fritz Dopfer (bib number 12) is very motivated after Thomas Dressen's (GER) impressive performance in the Downhill:
"Tricky passages, demanding course setting – I like it and I'll give it all I've got."
Follow the race live via:
Photo © K.S.C.
---
Related Posts
---